So it's been a while since I've written anything Monster High, I've been a bit.. ok wayyy distracted with Asian Ball jointed dolls which I actually got into shortly after my obsession with Monster High. Monster High was my intro to BJD's!
Although my obsession has switched over a bit, I still have alot of love for MH. Recently started buying the newer dolls as they are finally in stock at most stores I've been to.
I've been thinking of going to Afest while in Tx since I'll be here that weekend, and started pondering a simple costume to put together. After finding a Dead tiered Ghoulia, I thought to put together a Monster High inspired outfit. I hit the thrift stores and was quick to find some clothing pieces that I think work purfectly for Clawdeen!
I found these purrrfect animal print hot pants! and went from there!
I didn't have to hit too many thrift stores to find everything, just two!
I found a really cute tank top with a sparkly trim and a small black blazer to go with it.
I brought some faux fur with me from home since I'd been making some faux fur wigs for dolls. So I thought to add some to the blazer round the cuffs, and neckline!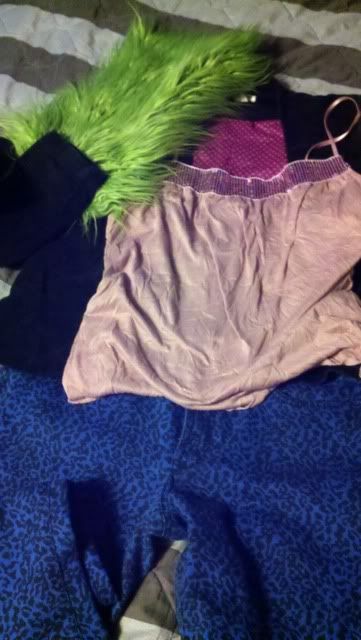 Hopefully I have enough. We'll see~
I also found this shirt that is sooo clawdeen! Don't you think?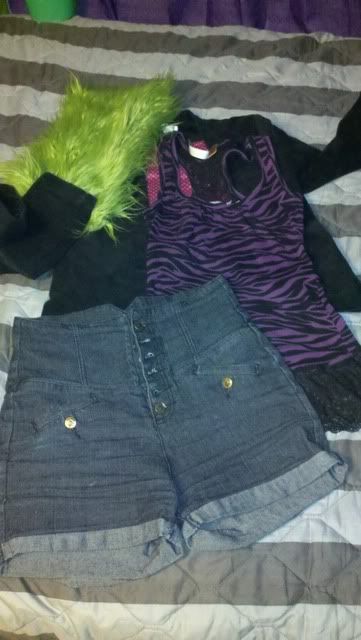 I all ready had the high wasted shorts, I think with a pair of fishnets it'll look very MHish.
I even got myself a wig! I made sure to get one that I can wear on an every day basis.
Since it was a bit pricy, and I like to wear wigs just cuz!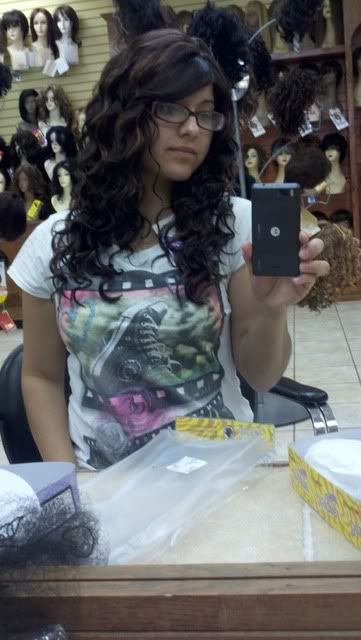 I still need some boots and her wolf ears!
I think I have a pair of boots I can customize somewhere in storage here at my parents, and I picked up some air dry magic model clay to mold some quick ears!
Hopefully I can find some cheap hoop earrings, they were all out at the nearest walmart, I'll have to go hunting for some at another location.
On another note~ I found this shirt I thought was cute for Draculaura!
Stay tuned! for more on my Freaky Thrifty quick trow together costumes!